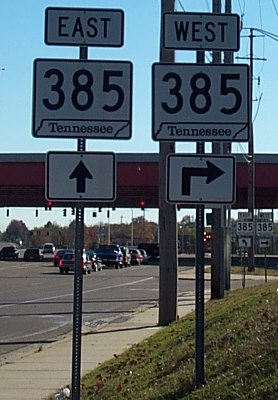 Introduction
These pages are devoted to providing information about TN 385 and related Memphis-area highway projects, such as the proposed NAFTA and Memphis-Atlanta interstates.
What is TN 385, and what does it consist of?
Tennessee Primary State Road 385 (from here on, TN 385) is the proposed suburban loop for Shelby County, Tennessee. Two portions of TN 385 are complete:
All of Paul Barret Parkway, from US 51 in Millington to Interstate 40 in Arlington. This is the "north" side of the proposed loop.
All of the Nonconnah Parkway (or "Bill Morris Parkway"), from I-240 in Memphis to U.S. 72 in Collierville. This is the "south" side of the loop.
To keep things straight, I'll refer to the three sections of TN 385 as the "north", "east" and "south" legs.
TN 385 is an interstate-quality road. Most of the existing portions are 4 lanes wide; however, the section of the south leg from I-240 to Winchester Road is 6 lanes wide. In addition, there are two auxilliary lanes (one in each direction) between Winchester and Riverdale and between Winchester and Hacks Cross.
Here's a map showing the route (based on Tennessee's 2001 official state highway map; the Collierville-Arlington route and the route of MS 304 are drawn in):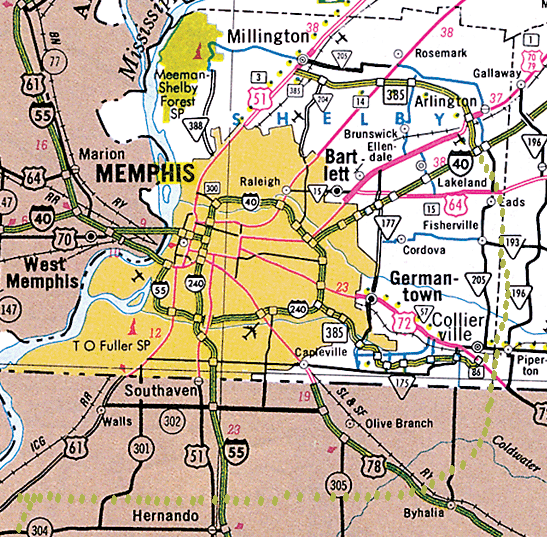 A Tale of Three Roads
As the use of three different names for TN 385 indicates, each major segment of TN 385 serves a different purpose:
The Nonconnah Parkway (or Bill Morris Parkway) connects the I-240 loop with the southeastern suburbs in unincorporated Shelby County, southern Germantown, and Collierville. It also serves as a bypass of Germantown and Collierville for through traffic on U.S. 72.
The Paul Barret Parkway connects I-40 at Arlington with Millington. The Millington area, like southeastern Shelby County (along the U.S. 78 corridor), is becoming a prime location for distribution centers and warehouses. Millington is also the site of Naval Support Activity Memphis, the home of the Naval Bureau of Personnel.
The Collierville-Arlington Parkway connects I-40 at Arlington with Collierville, providing a direct route between I-40 and Tennessee's fastest-growing city.
Memphis Highways 2020: Where does TN 385 fit in?
TN 385, in addition to providing an suburban loop highway for Memphis, may also be part of two major interstate highway projects in the not-so-distant future. For more information, see the future interstates page.
More information
Some links for additional information; some of these pages are also sources of information referenced here:
Note: this page is not endorsed by the Tennessee Department of Transportation or any other agency.
FastCounter by LinkExchange
---
Chris Lawrence <chris@lordsutch.com> (24 Sep 2003 at 07:46 CDT)