Ontario QEW Photos
The Queen Elizabeth Way links Toronto with the Niagara Falls region of Ontario, including the international border crossings along the Niagara River to New York. As such, it is a popular route for holiday traffic and international commerce.
The definitive history of the QEW is at Chris Bessert's Ontario Highways. Note that the road is named for the late Queen Mother and not the current British monarch (who had not yet ascended to the throne when the route was opened in 1939). Also unusual for a North American highway is the use of control cities, rather than cardinal directions, as the primary directional indication: one doesn't go "East" or "West" on the QEW; instead, one goes toward Fort Erie, "Niagara," or Toronto.
Today, the QEW has mostly been upgraded to a modern freeway. Long-term plans call for a parallel, probably tolled, "Mid-Peninsula Corridor" between Fort Erie and the 407 toll route to relieve traffic congestion on the route.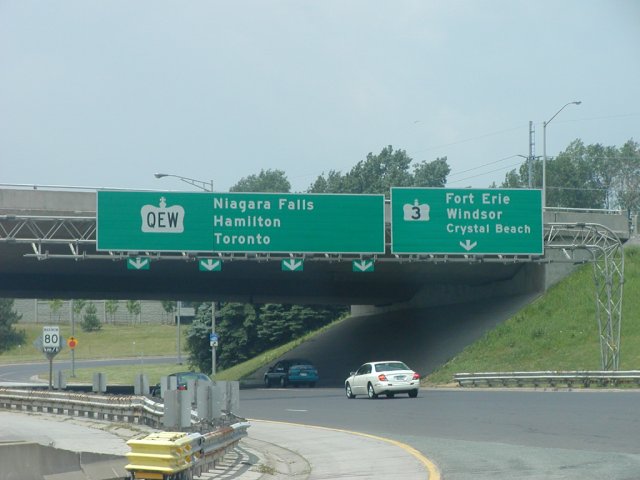 The first interchange on the Toronto-bound QEW is an exit for Former Hwy 3, which connects Fort Erie with the Windsor/Detroit region of southwest Ontario. While these days most Detroit-bound traffic would probably continue on the QEW to Hwy 403, Hwy 3 is still an important regional route. Note the lack of an exit number tab on the overhead sign, and the three control cities for the QEW. Also note the design of the downward-pointing arrows, and the speed limit sign under the overpass.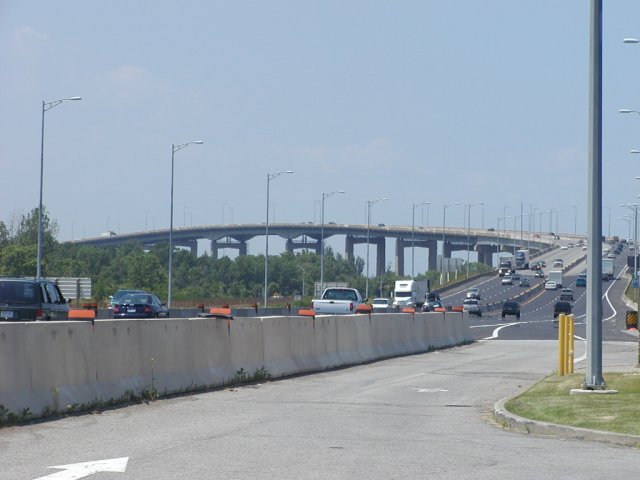 The Garden City (Homer) Skyway takes traffic across the Welland Canal. More information on the Skyway is at Chris Bessert's site. This photo is taken from the Ontario Tourist Information Center just west of the Hwy 405 merge between St. Catharines and Niagara Falls.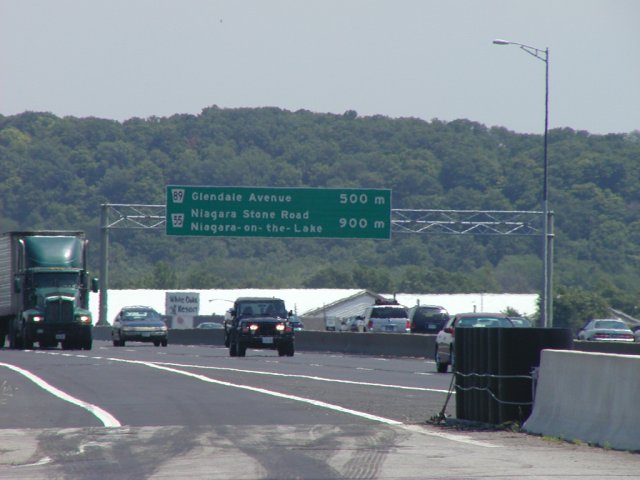 Two exits in rapid succession produce this unusual overhead sign configuration; a U.S. design would probably have two separate signs next to each other, one for each exit. (Also note the American-style truss, instead of the more curved truss that is typically used.)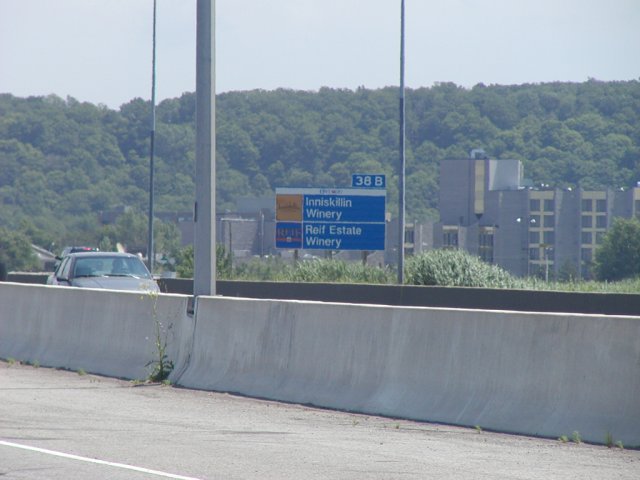 Typical attraction signage in Ontario. Note the exit tab and the use of the business's logos - some signs even include marketing slogans in the text. Also, note the use of the Swiss/Helvetica font, rather than the (U.S.) FHWA Series font normally used on freeway signage.
Typical Ontario trailblazer designs (taken in Burlington); a specially-colored shield is used instead of the ordinary shield color. Also note the blue trailblazer for the QEW, which is only used for this route (all other trailblazers are green).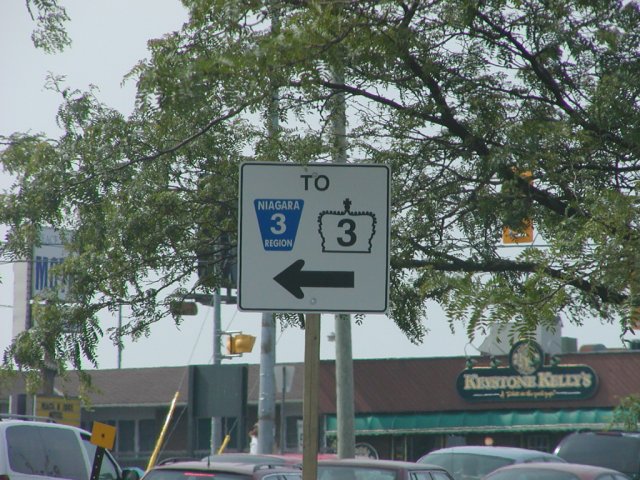 Signage for Niagara Regional Road 3, which turns into Ontario Hwy 3 several miles to the west.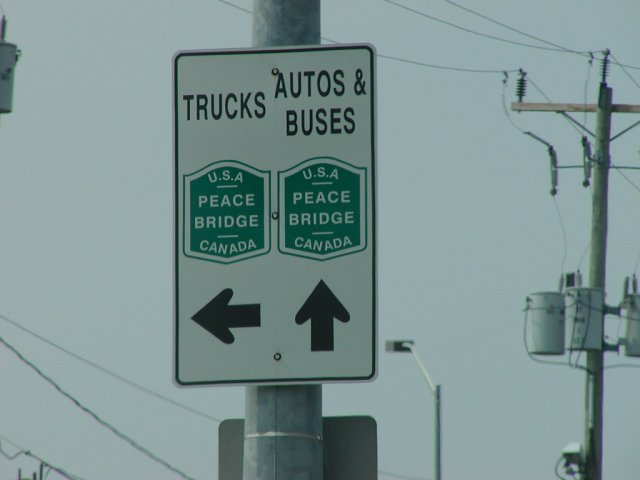 Some signage for the Peace Bridge in Fort Erie; note the different route for trucks, as they must enter the QEW further west to access the Customs Canada preclearance lanes at the bridge.
Back to my Ontario road photos collection.
---
Chris Lawrence <chris@lordsutch.com> (9 Mar 2006 at 23:11 EST)