Mississippi Highway 302
Update: Resurfacing of MS 302 from Swinnea Rd to U.S. 78 is currently underway, with most work taking place overnight. More details at MDOT's website.
Mississippi Highway 302 (Goodman Rd) is the main east-west highway in DeSoto County, Mississippi, and extending east into Marshall County. It runs approximately two miles south of the Tennessee state line, from a western terminus at MS 161 (old U.S. 61) in Walls, to U.S. 72 just west of Mount Pleasant.
MS 302 is four-laned east of MS 301 at Lynchburg. From Lynchburg to U.S. 78 at Olive Branch, it is mainly four lanes with a center turn lane with significant commercial frontage. From U.S. 78 to MS 309, MS 302 has recently been built as a four-lane expressway with at-grade intersections (excluding the Germantown Road interchange). East of MS 309, the four-lane expressway continues, with a grade-separated interchange (it looks like a trumpet) at the U.S. 72 terminus.
According to Adam Froehlig, the section from U.S. 61 to MS 301 will be 4-laned (probably a continuation of the four lanes plus turn lane design) in the future. If this work is completed, MS 302 will be at least four lanes for its entire length (since the MS 161-U.S. 61 segment is four laned already).
Perhaps the most interesting aspect of MS 302 for roadgeeks is the usage of MUTCD-compliant guide signs along the new section around Olive Branch. MDOT has generally used "quasi-MUTCD" guide signs with all capital letters on non-Interstate (and even some Interstate!) signs in the past, but are apparently changing over to MUTCD-style mixed-case signage.
MS 302 is part of the National Highway System, which was designated by law in 1995. It is not a "high priority corridor," however.
MS 302 has paved shoulders for its entire length, excepting a section through Horn Lake and Southaven where the road has curbs instead, and the two-lane section from U.S. 61 to MS 301.
Intersections with Other Highways
MS 302 will have intersections with nine signed, numbered highways when it is finished:
MS 161 (Old U.S. 61): T intersection (end).
U.S. 61: Diamond (U.S. 61 is through route) with stop signs on ramps.
MS 301: Four-way stop.
U.S. 51: Traffic signal.
I-55: Six-ramp partial cloverleaf, with signals on MS 302. Traffic can enter I-55 NB from MS 302 EB (and I-55 SB from MS 302 WB) by either using the cloverleaf ramps on the right or turning left at the signals (although the left turns aren't marked with guide signs).
U.S. 78: Diamond (U.S. 78 is through route) with signals at ramps.
MS 305: 1/2 diamond, partial cloverleaf, kinda semi-directional. See the diagram. (And to top it off, the MS 178-305 access roads resemble a Sunnyvale-style Central Freeway arrangement more than anything else.)
MS 309: Traffic signal.
U.S. 72: Trumpet.
Germantown Road Interchange
Here's a diagram of the Germantown Road interchange on the Olive Branch bypass. Perhaps the most interesting feature is the ramp from EB MS 302 to Pigeon Roost Rd (ancient U.S. 78), which is used to get EB MS 302 traffic to SB Germantown Rd.
Pigeon Roost Rd is also used for access between MS 178 (old U.S. 78) and Germantown Rd, since the new Germantown Rd has a bridge over MS 178. Pigeon Roost traffic must turn right at Germantown from both directions (enforced by signage only).
Interestingly, MS 305 is only signed as Germantown Rd from MS 302 (see the photos below).
MS 302 Photo Gallery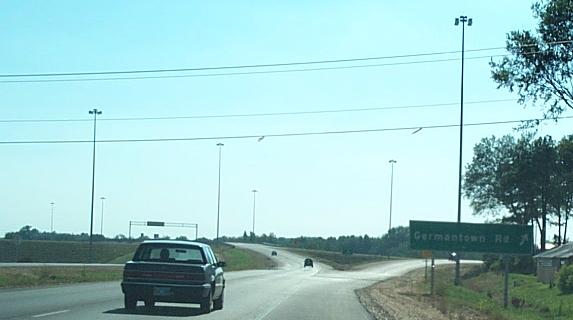 Ramp from westbound MS 302 to Germantown Rd.
---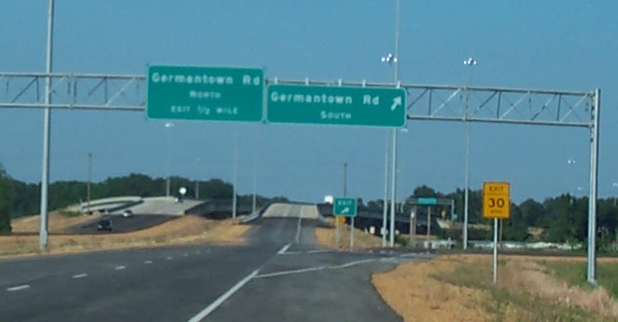 Ramp from eastbound MS 302 to southbound Germantown Rd., via Pigeon Roost Rd., featuring the original interchange signage. (This photo was taken from too far away.)
---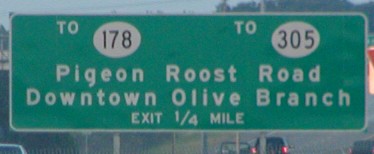 The original signage in the photo above was replaced with the signage shown here in mid-2002.
---
| | |
| --- | --- |
| | Sign on Pigeon Roost Rd about a block east of Germantown Rd. Southbound Germantown traffic turns right, then left on MS 178, left again after passing under Germantown Rd, left back onto Pigeon Roost, and finally right on Germantown. (Look at the diagram above if this makes your head ache.) |
---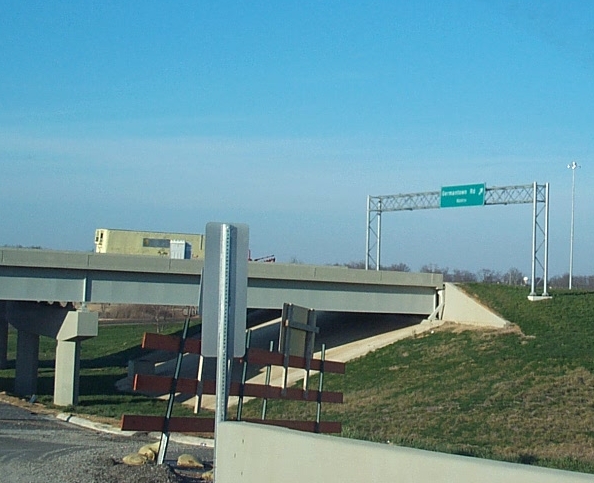 Photo taken while the interchange was still under construction from northbound Germantown Rd.
---
| | |
| --- | --- |
| | MS 302 signage at Hacks Cross Rd. (north of intersection). |
---
| | |
| --- | --- |
| | This sign is just before the MS 302 signage on Hacks Cross Rd. The road has been diverted onto a new alignment. However, this signage seems totally bogus, since there is no median (if you tried to go right of the sign, you'd end up going cross-country). |
---
U.S. 78 signage. One of only two MUTCD-compliant U.S. 78 signs in Mississippi at the time of its installation (the other one is about 1/2 mile further west). However, there isn't an exit (like the sign claims), just two traffic signals. (Really bad photo, sorry.)
Signage along U.S. 78 is currently being upgraded (see some recent photos for evidence).
---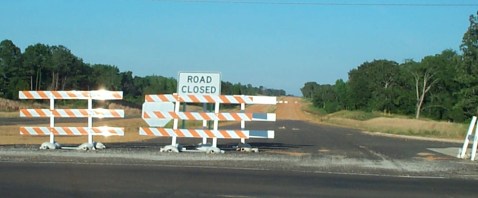 This is the end of the current road at MS 309. You can see the roadbed ahead for the extension to U.S. 72. MDOT says the total length from MS 309 to U.S. 72 will be approximately 9 miles.
---
East of MS 309: July 2002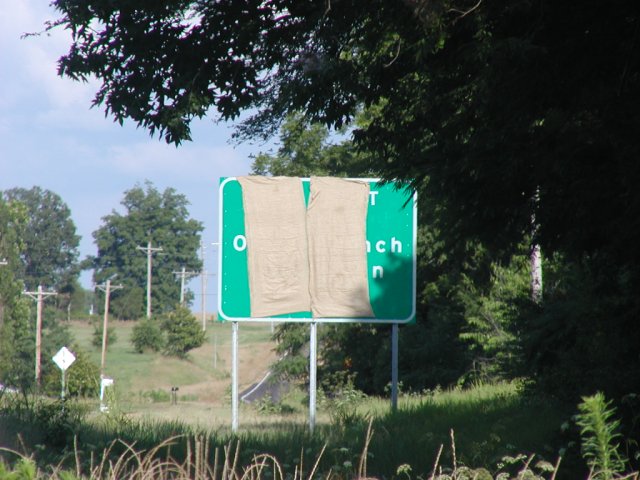 Signage installed, but covered up, about 2 weeks before opening.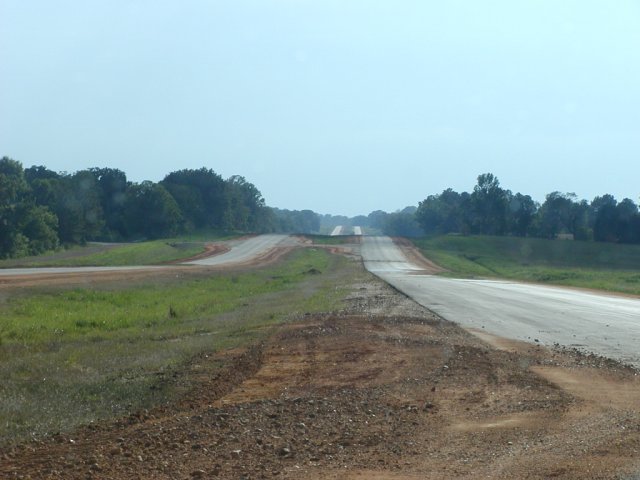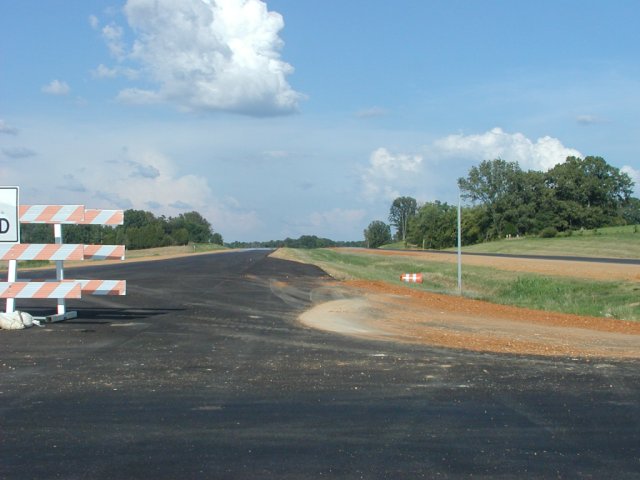 A few photos taken about two weeks before the road opened. MDOT had installed no signage and no striping was in place; remarkably, almost all of this work was finished quickly.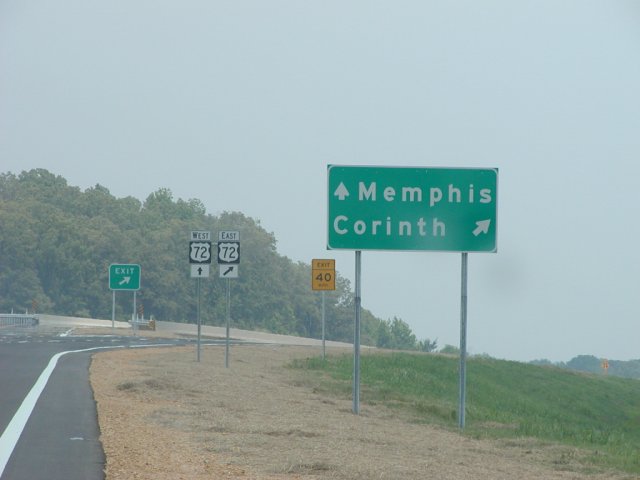 Signage on MS 302 eastbound approaching the interchange. Note the left exit to get on U.S. 72 westbound toward Memphis, even though the gore indicates a right exit.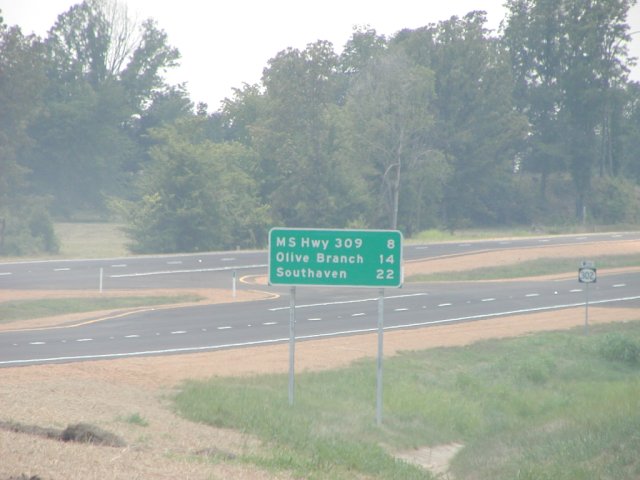 Various signage for traffic headed westbound on MS 302.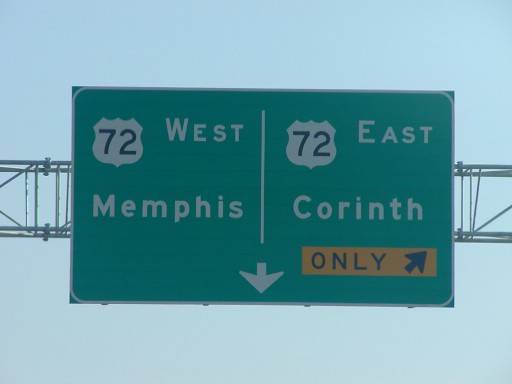 These overhead signs were installed late in 2002.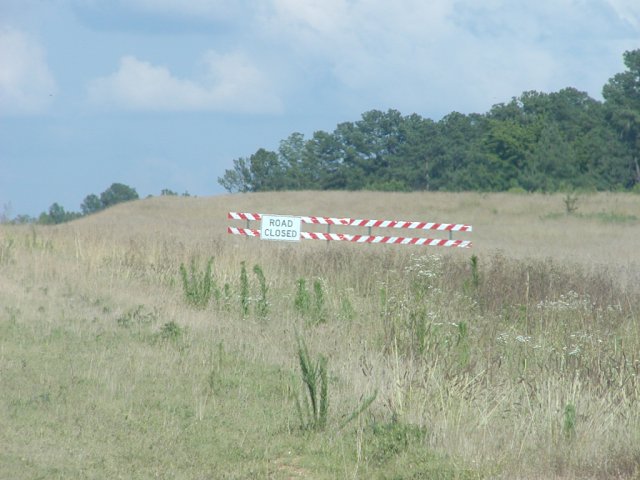 Just east of Mount Pleasant on U.S. 72 is this curious reserved area of right-of-way. It is probably designed to accomodate a welcome center or rest area eventually, although it may also be for an eventual MS 311 relocation east of the town.
---
More information
Some links for additional information; some of these pages are also sources of information referenced here:

---
Chris Lawrence <chris@lordsutch.com> (27 May 2003 at 21:50 CDT)